Robert J. Antonio
---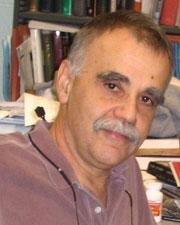 Chancellor's Club Teaching Professor
Contact Info
Fraser Hall, Room 732
Lawrence
1415 Jayhawk Blvd
Lawrence, KS
---
Biography
—
Professor Antonio (PhD Notre Dame) specializes in social theory, macroscopic sociology, and economy and society. His writings have focused on Marx, the Frankfurt School, Weber, Dewey, Habermas, and others in the classical and continental tradition. Among his publications are Marx & Modernity (2002), "After Postmodernism: Reactionary Tribalism" (2000), "A New Global Capitalism? From 'Americanism and Fordism' to 'Americanization-Globalization'" (with A. Bonanno, 2000), "Karl Marx" (1999), "Mapping Postmodern Social Theory" (1998), "Nietzsche's Antisociology: Subjectified Culture and the End of History" (1995). Areas: Social Theory, Comparative and Historical Sociology, and Political and Economic Sociology.
Education
—
Specialization
Social Theory, Political & Economic Sociology, Environmental
Research
—
Can modernization and globalization be sustained?
My work has focused on the "modern social theory" tradition and its core problem of modernization which has been debated intensely, and subjected to anti-modern critiques, and entwined with the most important political and cultural crises and conflicts of the last two centuries. From the start, critics have questioned whether modernization could be sustained socially and politically.  I am working on debates over globalization and about resource usage, global warming and environmental problems, anti-capitalist and anti-Western socio-political movements, and the consequent geopolitical conflicts and realignments that have put into question the sustainability of liberal democracy and capitalism.
Teaching
—
Social Theory
Globalization - Economy and Society
Macroscopic/Historical Sociology
American Society