Paul V. Stock
---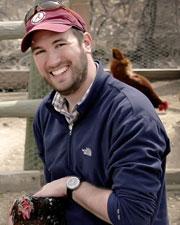 Contact Info
Fraser Hall, Room 721
Lawrence

---
Education
—
Specialization
Environmental and Cultural Sociology
Research
—
Environment
Food
Agriculture
Collaboration
Farmers
Care
Ethics
Morality
Paul is an environmental and rural sociologist with a primary interest in family farmers. Specifically, how do farmers respond to changes in the international economy? This work is also related to interests in environmental ethics, justice and agriculture, agricultural social movements, and the culture and symbolism of farming as it relates to policy.
How do we explain the growing interest in alternative agriculture and the underlying cooperation among individuals and groups and is this something all together new?
One of the main themes in my work whether looking at family farmers in New Zealand, Switzerland or Illinois or small scale attempts at agricultural self-sufficiency or even the research process itself, is that cooperation is just as important as competition. Our economic models and assumptions that have become cultural values tend to assume a winner-take-all scenario. In my work I like to focus on the threads of dialogue that emphasize the cooperative and the collective even amongst those in highly competitive endeavors like international agriculture. My continuing work on the Catholic Worker movement focuses on small-scale agricultural communes and moral relationships with the environment. My master's degree from Illinois State University focused on organic farmers' identity as "good farmers." The understandings of what is "moral" or what is "good" are shaped by tradition, practice, relationships, context and psychology; they are not immutable categories, they evolve. Further, by examining cooperation and the historical trends in environmental and agricultural practice we can get a better handle on approaches and practices for addressing the very real political and environmental problems we face today.
Teaching
—
Environment
Food
Agriculture
Rural sociology