Brian L. Donovan
---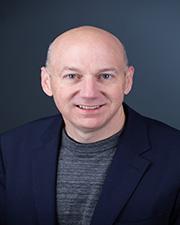 Professor
Associate Chairperson
Contact Info
Fraser Hall, Room 711
Lawrence
1415 Jayhawk Blvd
Lawrence, KS 66045
---
Biography
—
Brian Donovan is a cultural and historical sociologist; his work focuses on the role of law and culture in shaping social inequality. His book White Slave Crusades: Race, Gender and Anti-Vice Activism, 1887-1917 (University of Illinois Press, 2006) analyzes the gender and racial politics of early twentieth century anti-trafficking organizations. In Respectability on Trial: Sex Crimes in New York City, 1900-1919 (SUNY Press, 2016), Donovan examines conflicting notions of gender and respectability in Progressive Era sex crime trials. Brian has won two university-wide distinguished teaching awards: the Silver Anniversary Award for Excellence in Teaching (2007) and the Gene A. Budig Teaching Professorship Award (2016). Areas: Gender and Sexuality, Historical Sociology, Cultural Sociology, and Sociology of Law.
Research
—
How does the collision between law and culture create gender inequality?
Over the past decade my scholarship has focused on the intersection of law and culture in creating and sustaining gender inequality. My book Respectability on Trial: Sex Crimes in New York City, 1900-1918 provides readers a front row seat at critical courtroom battles over seduction, pimping, rape, and sodomy in early twentieth century New York City. Respectability on Trial analyzes over 16,000 pages of verbatim trial transcripts to show how judges, attorneys, jurors, and other trial participants invoked competing standards of sexual respectability reflecting distinct understandings of sexual consent and coercion. Respectability on Trial unearths stories of sexual violence and legal injustice that contradict the image of early 20th century America as a time of sexual revolution and progress. Respectability on Trial fills a gap in the historical and sociological literature by recovering and chronicling the plights of ordinary New Yorkers. These trials engaged topics and uncovered details deemed too indecent to print in a newspaper, and the relative obscurity of the courtroom participants all but ensured their absence from the historical record. Through the recovery and retelling of these stories, Respectability on Trial casts a bright light outside the courtroom as well as within it.
       My current book project American Gold Digger: Marriage, Money, and Law from the Ziegfeld Follies to Anna Nicole Smith (under contract with University of North Carolina Press) examines the influence of the "gold digger" trope on American family law and culture. American Gold Digger traces the history of the "gold digger" from 1910s chorus girl slang to a powerful stereotype that shaped understandings of gender and matrimony. My research illustrates the symbiotic connection between cultural production (stories about greedy gold diggers) and law (anti-alimony organizations, proposed alimony reforms, and legal judgments regarding alimony).