Melissa Irwin
---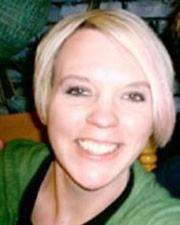 Biography
—
Melissa Irwin holds advanced degrees in Sociology and Educational Leadership and Policy Studies from the University of Kansas.  Melissa also holds undergraduate degrees in anthropology and Italian literature and language from KU and has extensive teaching and tutoring experience at both the K-12 and university levels. Her interests include culture (particularly subcultures and pop culture), education, the law, social networking via CMC, medical sociology, and thanatology. She is currently a doctoral candidate in Sociology who specializes in death studies, culture, and online social networking sites and behavior, is a full-time employee at the University, and tutors for KU Athletics. Melissa's favorite dead sociologist is Erving Goffman. She loves Duran Duran, really bad B horror flicks, and libraries.
Research
—
MA Thesis: Mourning 2.0: Continuing Bonds between the Living and the Dead on Facebook, has been accepted for publication and will appear in volume 71 of Omega: Journal of Death and Dying.
Abstract: This study examines the burgeoning phenomenon of Facebook memorial pages and how this research about dynamic, online social networking environments can contribute to the existing literature related to Klass et al's (1996) continuing bonds thesis. I argue that memorial pages constitute a new ritualized and public space for maintaining these continued bonds and that individuals exhibit several types of bonding interactions with the deceased. I conducted a content analysis on a purposively selected sample of 12 public Facebook "pages" where I coded 1,270 individual Wall postings. Analyses demonstrated that many individuals routinely used these Walls to continue their relationships with the deceased. This research highlights how individuals have transcended the limitations of time and physical space in relation to traditional bereavement behavior and rituals and how data found on public websites, such as Facebook, can be used to further theorize bereavement and to demonstrate continue bonds between the living and the dead.
Awards & Honors
—
Melissa was the recipient of the 2013 Dean's Award for Student Employee Excellence, created by Dean Lorraine Haricombe in 2010 at the University of Kansas Endowment Association. Students are nominated by library staff and faculty; the winners are selected by the KU Libraries Board of Advocates. Each winner received a cash prize of $500.  During more than a decade of work at KU Libraries, Melissa worked in a variety of departments. Supervisors from both the cataloging and collections departments nominated her, and they applauded her attention to detail and her ability to adapt efficiently. A single mother working three jobs, while working on her PhD and teaching a course in her department all within the same semester, Dean Haricombe expressed admiration for Melissa and her extraordinary work ethic.