Adrianne Showalter Matlock
---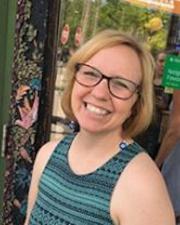 Biography
—
Adrianne has been proud to call Wyandotte County home since she moved to the KC area 10 years ago. Her love for her community has led her to work in supportive housing, tenant organizing, and board service for several local organizations including Historic Northeast Midtown Association and EnVision Homes.
Education
—
Specialization
Urban Sociology; Affordable Hoursing; City Planning; Tenants' Rights; Participatory Action Research
Research
—
In her current research, Adrianne Showalter Matlock is figuring out how mid-sized Midwestern cities characterize their role in meeting basic human needs while navigating the challenges of the national and global political economic context. To do this, she is analyzing how 20 cities talk about housing in their narrative-rich land use planning documents. Feel free to email Adrianne to request a recent draft of this research which she presented at ASA 2019: "The Density of the American Dream: How City Plans Justify Residential Density Decisions." Adrianne currently works as a consultant for the Wyandotte County/KCK health department, researching and implementing affordable housing policy.
Selected Publications
—
Adrianne published her first peer-reviewed article this year, along with her co-author Jake Lipsman! Check out "Mitigating Environmental Harm in Urban Planning: An Ecological Perspective," in the Journal of Environmental Planning and Management. She and Jake have another paper forthcoming: "A Political Economic Theory of Backcasting in City Planning."